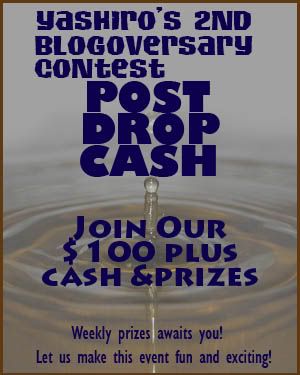 I guess what I like about
Yashiro's blog
is that it always seems to be updated with contests, not just its own but also a lot of other blogs. I like contests and I like to be always updated, and this one is a good place to be in the know. :)
Now who doesn't want cash??? If you want cash then this is the contest for you! The joining mechanism is really easy, and there is nothing to lose, so what are you waiting for?
"Join POST… DROP… and win CASH"
now!
Check out the awesome sponsors that made this event possible and also check out the banner for the one hosting the contest!
Primary Sponsor
Secondary Sponsors
Tertiary Sponsors









Other Sponsors